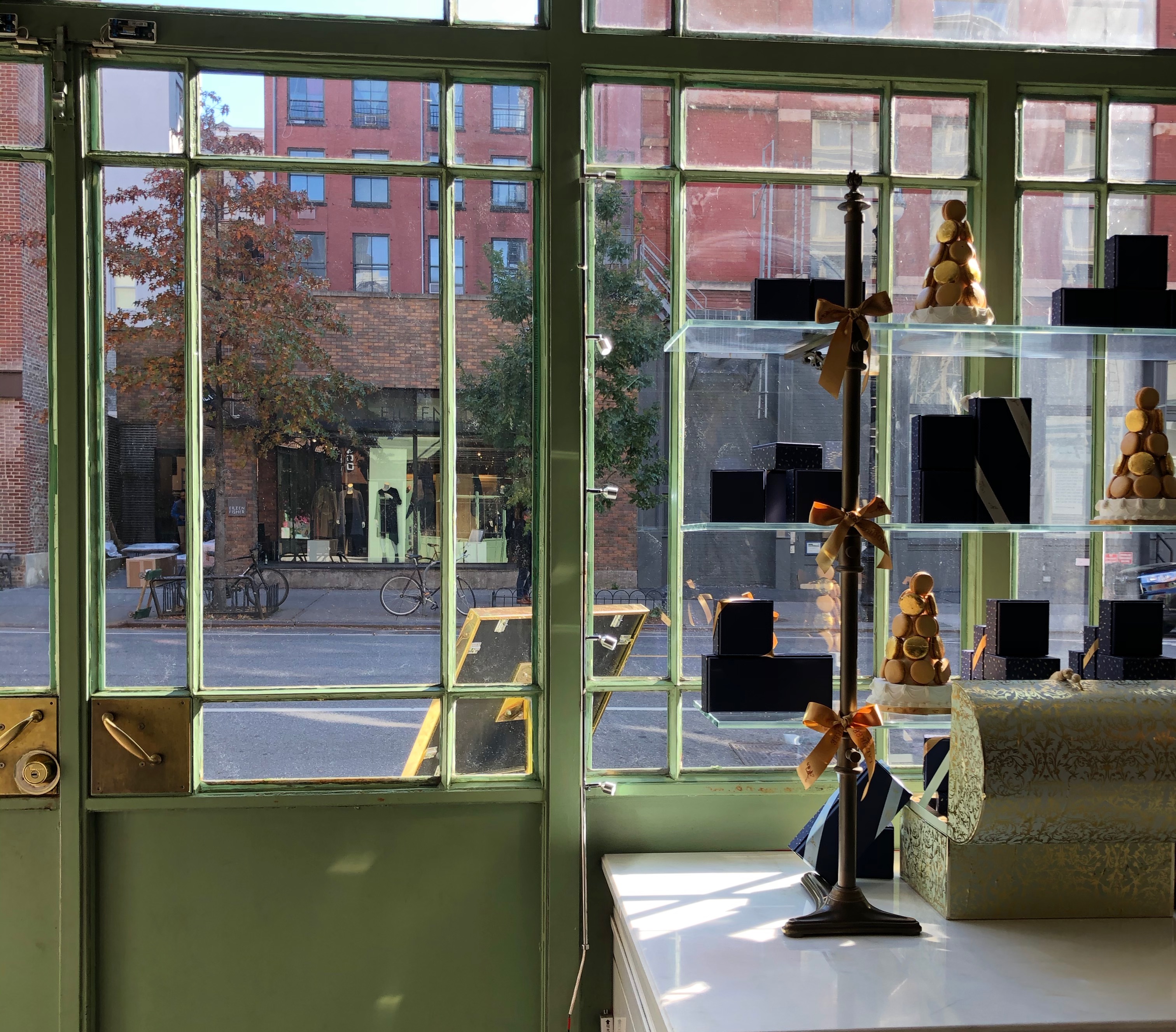 There was a dark period in my life where I was living amongst black mold and some other lovely creatures (I'm positive most New Yorkers are familiar with these). Soon after I discovered the black mold, I spent some time living with my boyfriend in a high rise in Brooklyn Heights for a few months. Our morning routine of espresso, our signature pancakes, going out for coffee, and casually strolling through Washington Square Park was perfect. The windows were extravagant, the skyline view was priceless, and most of all waking up next to the person I loved was more than I could ever ask for. We spent our evenings at The Osprey by a view on the Manhattan skyline sipping wine and discussing our future together occasionally exchanging the occasional phrase in Greek. Every moment was so significant and picturesque. Having him always around made every day worth looking back on even weeks later.
I currently live in a new, more modest apartment in Bushwick. The coffee shops nearby do not have skyline views and I no longer have the love of my life casually playing chess on the couch and reading French books. Most of all, I realized I would also no longer have someone with whom I could share my favorite films and my morning and evening routines would not be the same. After I moved out, I felt fragmented after so much of my life being supported by somebody else's presence. No longer having him accessible in the room nearby left me feeling fragile for a short time after I left.
It took a few weeks before I started to find myself in a new routine and began to decorate my room to feel like home. I began to realize there's something indulgently serene about going to Barnes & Noble after work and reading through countless books without anyone else there. As much as I love taking a bite of a pancake from my boyfriend or laughing over instagram clips with my sister, sometimes dinner by yourself can be equally as fulfilling. The times I walked around SoHo with a dark roast in hand while listening to that song I always play at sunset, is a moment only I can fully understand based on my past experiences and sentimentality. Previously, I did a study in nostalgia and I walked away knowing that some things are meant to be shared only with me, myself, and I.
I recently read Call Me By Your Name and walked away with a very unique perspective on relationships. Elio's internal monologue is an example of how some people view their relationship as an "all or nothing" thing in life. They open their diaries to their significant other and tell them about every dream they have at night. Elio views Oliver as his outlet of freedom with whom he desires to open his heart to without any boundaries or inhibited actions. When Oliver left Italy to return to The States, Elio's expression of his freedom became fragmented because he invested so much of himself into their relationship. It's natural to want another person to be an outlet for us to feel safe or express the love we have to offer. Seeing the same face everyday over time creates a sense of home we seek in life to find rhythm and routine. However, only Elio can hear his own thoughts and only Oliver can interpret his own emotions. We are designed as separate beings to support each other and be interdependent with one another. The differences between us allow us to be able to support others in ways they can't support themselves. If we put so much of our identity into another person, we can no longer offer anything new to the relationship and our personality becomes unoriginal. However, this is different than codependence which means we can't live out our full purpose without someone else.
After all of this, I realized how important it is to take care of yourself. I now schedule weekly dates with myself at Laduree to drink apricot juice before work. I turn off my phone while I do yoga each night and indulge in personal projects and diaries only I will ever see. I turn off Instagram more often to keep my experiences to myself knowing that some things are meant for only my memory rather than plastering it all over the internet and into my friends' feeds. I set boundaries in all of my relationships to stay confident in my own identity so I never rely too heavily on anyone else to feel fulfilled. Most of all, I discovered treating yourself to a glass of wine at The Osprey does not always have to be a ritual shared with someone else. Now when I see my boyfriend every week and call my family, it feels indulgent and unique. I appreciate each moment we share ten fold because of how scarce they are. So here's my advice: Find your rhythm, and take some time each week to enjoy it on your own.